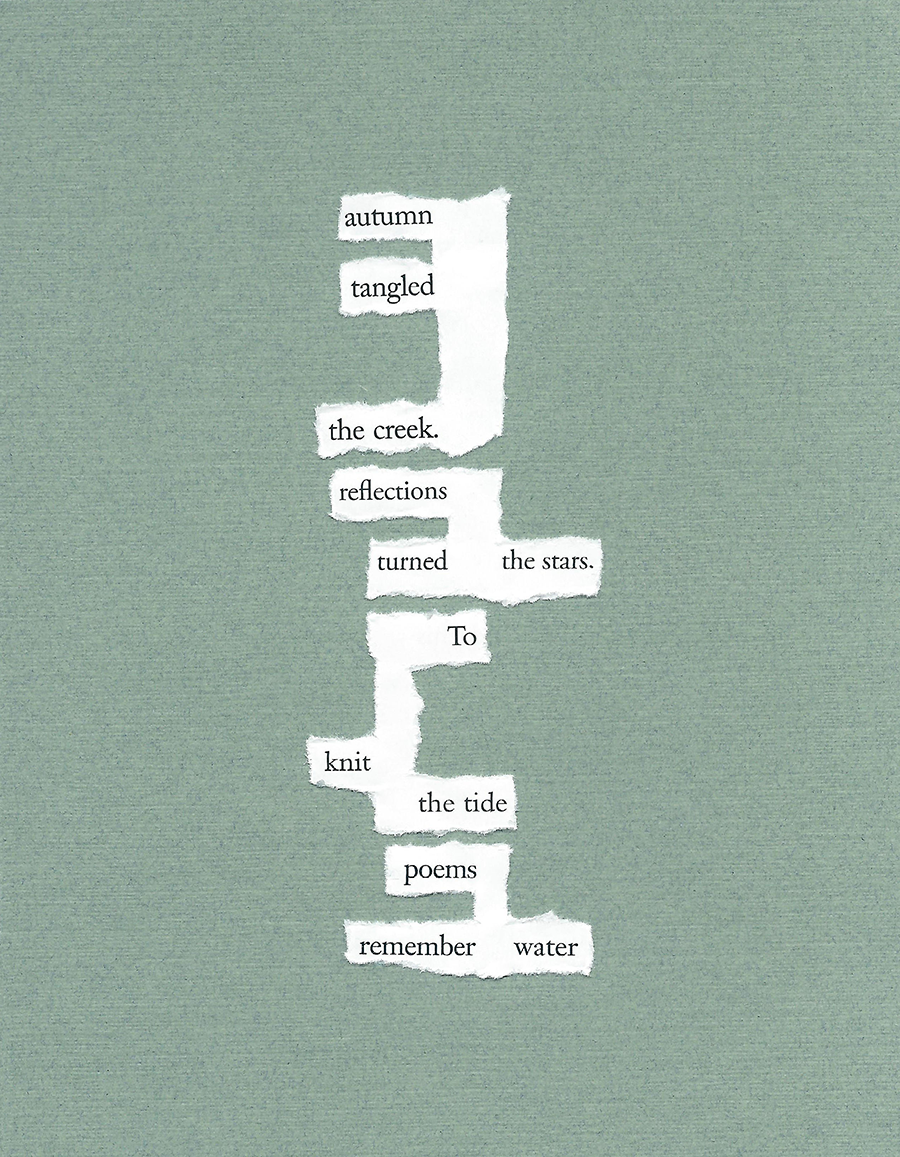 —J. I. Kleinberg
harvest moon
the smallness
of a weasel
*
the cadence of acorns woodland rain
*
Hollow Gourd
tendrils of decay
caress the pumpkin's curling stem.
a moon-silvered mist
settles into the chambers
of this heart.
—Farah Ali
You Were a Werewolf & I Was a Cowboy
but even Rooster Cogburn has a weakness,
and ten years on
mine's still the tacky plastic smell
when the Halloween decorations
start to come out
*
Kanpukai
—You said it means go together
to see the leaves.
We did.
To Sapporo, yellow flutterings
over gingkoes on sunset.
—Thomas Farr
Testimony 4
Ripples of flame
Whip inside-between
Us. Dad drags in the ancient
Ages, splashing our tender
Moment with his ashen laurels.
*
Berries
Wild blackberries fill the
Trays and bowls. This is
The plenty of which
Farmers Almanac spoke
—Marc Isaac Potter
Harvest
What was left of the lovage
after summer's generation of snails
and my trimming back of the skeletal
stalks—hollow straws where someone
may yet fit in some sleep.
—Kerri Sonnenberg
upper crust in a park
gotta rake up leaves
or whatever
pick up sticks
—Austin Miles
My brother turns on the World's News at 6PM
"Terrorist Attack Leaves 7 Dead"
People find love in the gruesome things
I switch to Local News at 6:30PM
Apparently the pumpkin patch is back in town
—Casper Kelly
Lancaster County Autumn
Air that can't decide if it wants to smell like manure or chocolate
Starts to blow around you
Rustling the cornstalks, pimpling your shoulders
You sit in baseball fields and stare up
At the plump, yellow moon
—Izzy Astuto
in the belly of
an orange gourd, I find my
twin: a rotten heart
—Kate Javner
lycanthropy
I admitted, "I am not myself in the mornings"
believing it was a metaphor, my lover slept
comfortably
but the next day they were very surprised
—Rachael Inciarte
Elizabeth Hubbard
Did you like my performance? Were you in attendance? Were you born in time?
I remember when the trees shed their coats for the snow when I bared my soul
about Sarah Good and all those up to no good.
The centuries have turned me mad. I can't find 15 people I was supposed to meet…
—Lauren Elise Fisher
Room Temp
every morning
i get coffee in my hair
that's how you can tell
i am drinking
alone
—nar juiceharp castle
Autumn
Don your scarecrow suit
to face the season
balding like a field
emptying its pockets
while conspiring crows plot.
—D A Angelo
Funeral-gray day,
mourners' jaws clenched against cold;
one will soon return.
—Tina Karelson
tell me about the sound of cinnamon
the smell of corduroy
the look of the biting wind
the taste of an old crackled book
and the forever, familiar softness of your voice
—Rory Baskin
Was it pussy witchery?
To unearth a gentleman's graveyard
Man: arbiters of destruction
Her head a machine, labyrinth of rot
In fueled fields, she screams
—Nikkin Rader
bronze and red palace
pine-needle guards bristle
ghosts on the throne
—John Grey
Harvest Bounty
The hummingbird feeder has 6 openings
But migrating hummers
Still fight over the nectar
*
Reaper
Skeleton leaves
Corn stalks rattle like bones
Even the pages of my book grow dryer
—Margaret King
Driving Upstate
You haven't driven in months, but now the Gold hits you beating
through the leaves; the heaving Rain
trickling between tree roots, each Road winding back
and forth, back and forth, spinning acceleration
powerlines emptying Against your body, static, singular momentum.
—K. Kannan
October
Dressed up as ghosts,
our kids confront the neighbors,
demanding candy.
Not yet afraid of people,
they're frightened by the one dark house.
—Chris Bullard
bronze and red palace
pine-needle guards bristle
ghosts on the throne
—John Grey
rosty morning dawns
the ghost of an ibex roots
through drifted snowbanks
—Robert Beveridge
VIEW FROM THE BRIDGE
—BELLEVUE BRIDGE, BELLEVUE, NE—
YOU DESTROY YOURSELF / LOOK UPON THE PALE FEVER / OF
LIVER BLOAT // BEGUILED / YOU GAZE // IN THE GAZING YOU SEE
YOUR DEATH / OR AT LEAST IT'S REFLECTION // YOU CHASE IT //
BY CHASING IT YOU TELL YOURSELF / YOU'RE KEEPING IT AWAY
/ HOLDING IT OFF
*
VIEW FROM THE ANGLE GRINDER
// SPLINTERED BY DOG BARKS & DISTINCTIONS OF
PARTICLES / BONDED TO THE ROOT-BALL OF EXISTENCE
/ YOU SIT. // THE BLUE-SKY BURDEN BURNS YOUR GRIEF
/ & YOU DRINK HOT SOUP FROM THERMOS / WAITING
OUT LUNCH IN COMPANY VEHICLE.
*
Rasping bark of the cottonwoods, the sediment fervent with
these labors, caged creatures, and you with pipe firm
between fingers and lips.
—Daniel J. Flosi
carving
a piece of me
one at a time
thanksgiving
—Surashree Joshi
秋月
湿热的白天在河谷里消散,天上也随着越来越凉。
四个年轻男人在雪山对面枯坐,等待积雪背后
秋天冰凉的满月。有水波流荡其间的满月,
如天缺,被不知名的手臂穿过;
如莲花,虚空里的那道霹雳。
Autumn Moon
Humid and hot daytime dissipates in the valley, and the air above
cools down shortly. Four young men sit idly across the snow mountain,
waiting for autumn's cold full moon. It has waves rippling through,
like an aperture in the sky, passed by an unknown arm.
Or like a lotus flower, a thunderbolt in nihility.
*
叶子红了
落日映着枝上的峰峦和漩涡,沉入
山间的梨树丛。被秋天抽尽了血液的落叶
沉入河谷,被渐渐发蓝的流水带往下游,
带往另一座荒山,
另一片香柏树林。
Leaves Have Turned Red
The setting sun shines on bumps and whorls of branches, falls into
the peach grove between mountain. Fallen leaves with blood drained by autumn,
sink to the bottom of the river valley, are then carried downstream
by currents slowly turning blue, carried to another
deserted mountain, another cedar forest.
*
晚秋
是晚秋还是初冬,只有在薄雪上过夜的牧人说得清,
只有被剪了毛的、渐渐清减的绵羊知道。
只有被干树枝扔下的黄叶子明白。
只有在山腰上四处张望的异乡人
才会被稀疏的松树林所迷惑,而困顿、麻木。
Late Autumn
It is late autumn or early winter, only a shepherd who spends
nights on light snow can tell. Only a shorn, weight-losing sheep
knows. Only yellow leaves discarded by dry boughs understand.
The stranger that wanders halfway up the mountain, is confused
by the sparse pine grove, becomes worn and numbed.
—Ma Hua, translated by Winnie Zeng